キツラノのセレクトショップでスタッフを募集

branches & knots

掲載期限 :

2021-03-21

勤務地 : バンクーバー, BC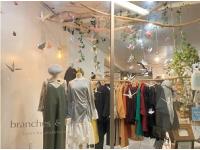 ■職種
Sales, Customer service, Administration, Marketing etc.
■仕事内容
キツラノのセレクトショップでスタッフを募集しています。 ただ働くだけでなく、ビジネスについて多くのことを学べる楽しい職場です。ビジネスレベルの英語力は必要になりますが、電話応対やEmailでのやり取りの経験があり、自信を持ってお客様の対応ができるコミュニケーション能力が高い方であれば、パーフェクトな英語でなくてもカバーできると思います。長期で働ける方を探しています。
下記の内容を読んで興味のある方は是非ご応募ください。
Are you looking for something more than just sales to utilize your skills? We are a small but dynamic fashion retail/wholesale company and looking for a positive, creative, and mature person who is passionate about fashion. There are so much to learn how to operate the business. Candidate should have strong sales skills with experience, communication skills as well as computer and organizational skills. The successful candidate will have an opportunity to be in a full-time position and will work in-store with employees. We are also a wholesaler, and you will be trained to work with wholesale clients and in distribution.
Job Description
-Sales in-store and learn about products, building up relationships with our customers
-Recordkeeping and reporting and analyzing
-Handling cash/credit card transactions,
-Merchandising items in-store
-Creating/helping window display as well as in-store displays
-Marketing using social media on Facebook, Pinterest, Instagram and our own website
-Developing, maintaining, and marketing e-commerce and online store
-Familiar with Microsoft Office, especially Excel
-Researching fashion products and retailers
-Attending trade shows (Vancouver, Toronto, Edmonton)
-Administrative tasks such as entering data, issuing invoices and sales/purchase orders
-Arranging shipments
We are small so that you will be a big part of the company and there are so much to learn how to run the business in the fashion industry. If you think you would be the one, we would love you to join our team!!
■応募資格
Job Requirements
*Strong sales skills
*Communication skills
*Computer skills
*Organizational skills
*Business English communication including reading, writing and telephone skills
*Must be available and willing to work in weekends
Assets
*Knowledge of e-commerce
*Illustrator and Photoshop skills
*Artistic skills
Additional Information
*Wage depending on experience
*Preferably a permanent resident (we are not be able to support a work visa)
*We are looking for someone who will be able to work a long term
■待遇・賃金
Job Type: Part-time
Salary: $15.00 to $17.00 /hour to start
Vacation & Holiday Pay + Bonus
Staff discount is available
■勤務場所
3128 W. Broadway
■備考、その他
Store Hours: 12-6
Mondays & Holidays are closed
■応募方法
Please forward/drop off your resume and portfolio if you have it.
Looking forward to meeting you soon!
Thanks for reading!
【コンタクト方法】
※お問い合わせの際は『人材カナダを見て』とお伝えください。
Email : hiring@branchesandknots.com
住所 : 3128 W. Broadway
担当 : Naomi
【ホームページ】
https://www.branchesandknots.com/